Combination of Happy Block Event Ecosystem
People are born to be celebrated, so there should be no marginalized people. It is a project where anyone can freely recognize the celebration and Invest and celebrate at the same time. There are many things to celebrate in your lifetime, but everyone deserves celebration and needs to focus on revitalizing the convenience of celebration.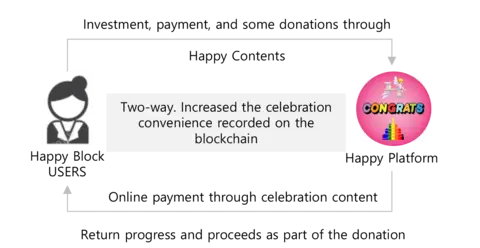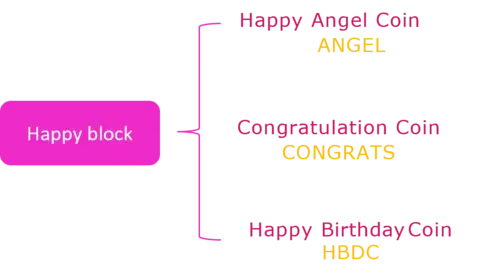 Congratulation Coin(Congrats)?
Congratulation Coin is determined by the consensus algorithm of Happy Angel Coin and Happy Birthday Coin. Although there is a foundation for the project, additional coins operated on the Happy Birthday Platform system are required, they are issued as a coin that can be linked to the central issuer (central government) and combines the Happy ecosystem with their value increases. As Angel + Happy Birthday Coin is activated, Happy Liquidity Pool and Congratulation Coin are designed to increase their value.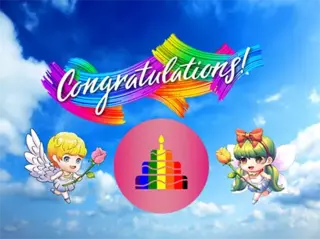 Happy Coin System
We issue Stable Coin System Happy Coin with volatility by an algorithm that combines the Happy Birthday Coin (HBDC) + Congratulation Coin (Congrats) + Happy Angel Coin (Angel) ecosystem. This is a system in which the issuance of Happy Coin increases as the ecosystem of Happy Block expands, where the value of Happy Coin increases and liquidity supply is carried out by bringing the Happy Block ecosystem as the Happy Coin Holdings system expands.

Able to participate in global celebration campaign
1. Able to participate in global celebration campaign targeting Happy Platform USER

2.Can be used as a donation token + a simple online payment
Participate in the Happy Birthday campaign
1. Share a pool of liquidity that creates proceeds simultaneously with users to participate in the Happy Birthday campaign

2. Real-time user-to-user celebration service system
Provides a technical solution using blockchain
1. Provides a technical solution using blockchain to places with opaque funds management.

2. Reliability, transparency, and use of Happy Coin as a global payment method
Event Centralized Success
The Happy Birthday platform supports a smooth reward ecosystem between users through various rewards. When friend recommendations and today's events happen, it provides a special bonus and supports a centralized event where these rewards can be shared through interaction with a large number of unspecified users. Existing customers and customers who have maintained steady connections and communities through Happy Platform can create a reward distribution structure for rewards through the automatic gift smart contract, which will allow Happy Platform to have a reward system that can continuously sustain steady events rather than a one-time event.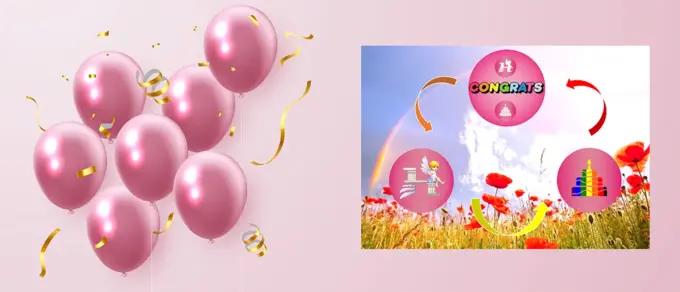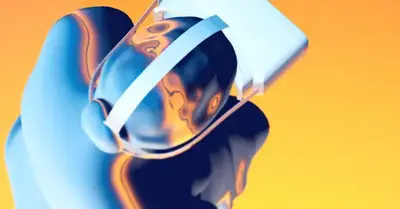 Users sign up for membership on HAPPY PLATFORM and log in to the linked Metaverse service. Members can purchase game characters or birthday items they want with NFT tokens within Metaverse World. The purchased NFT tokens (game characters, birthday items, etc.) are then connected to the seller and the purchasing agent in the HAPPY PLATFORM (marketplace) for P2P and B2C NFT transactions. When members select characters or game items they want in the HAPPY Metaverse game and purchase NFT tokens, they can own NFT permanently and can trade it on the HAPPY platform.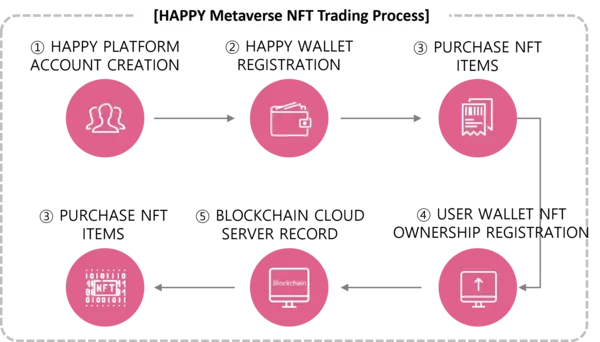 Happy Birthday Currency
Happy birthday coin is the digital password currency to be used by everyone to celebrate each other's birthdays on the platform. The coin will provide business value that can be trusted and reasonable.
What HBD pursues:
Transaction value as currency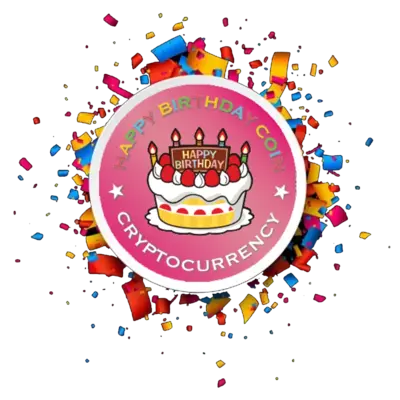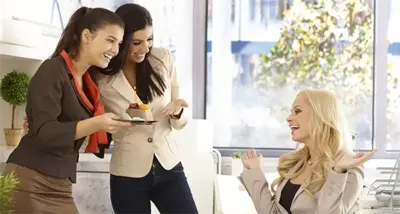 Auto Gift Coin
Suppose you are a member of a happy birthday coin and already a basic member. In that case, you can receive the following discounts. Members born on the same day can receive one happy birthday coin, which is an automatic blessing from existing members. Of course, this activity needs to be confirmed before confirming newly joined members. If you don't want to participate, it's not forced. The small happy birthday coin can be a big gift for birthday people. In the future, gifts will be accepted according to the birth order. Through happy birthday platform, members can receive the currency blessing from people all over the world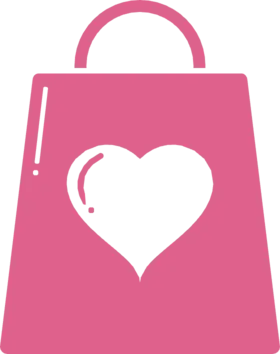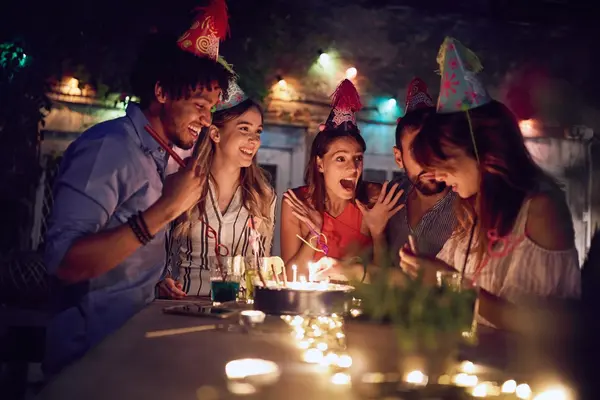 Stable Coin with volatility for Happy Coin Ecosystem Expansion?
With the advent of Bitcoin in 2009, the concept of "cryptocurrency" came to the surface, but even now, cryptocurrency has still not established itself as a means of daily transaction. Among cryptocurrencies, only some coins, like Bitcoin, are equipped with facilities that allow payment, but even this does not have many stores. Since the price of Bitcoin also fluctuates, there is no reason to use an unfamiliar cryptocurrency over a familiar fiat currency. In the world of digital assets, platforms that use price-stable currencies as a means of trading have begun to appear even for tokens that are used as currency only within the platform, not as a global key currency like USD for so that buyer/seller can avoid loss by price fluctuations.
Stable coins often require centralized operating institutions to issue stable coins and guarantee value. The reason why so much attention is being paid to stable coins is because of the potential of cryptocurrency. This is because if the problem of price fluctuations of cryptocurrency is solved, it will be possible to use cryptocurrency when using existing financial services and have all the advantages of sending money overseas fast at low fees.
The Happy Block Platform also issued digital assets in the form of stable coins among the ecosystem structures. Stable service allows you to adjust the overall platform volume and minimize the risk of falling prices and is provided as part of a service tool to provide customers with a stable pool.
Exchange trading prices falls

Exchange
1 HAPPY = 0.5$ (change)

Coin issuance
1 HAPPY = 1$ Coin

Coin holders cash out the HAPPY coin, which has decreased in value, to 1$.

In Exchange HAPPY distribution falls, HAPPY's market value rises.
HAPPY = 1$
Price recovery
Implementing Price Stability
Supports investment objectives
Unlike the existing cryptocurrency investment market, the Happy Platform service manages assets from the same perspective as investors by directly investing a certain stake in listed tokens. Therefore, it not only prevents investment losses but also provides new investment opportunities through active management supervision and sales at maximum proceeds points.

Short-term investment loss
In the event of a short-term investment loss, data-based investment loss processing and the section of excess investment loss generated through continuous tracking are identified. It predicts and provides section information on the optimal sale and improves proceeds by a realization of maximum investment returns.

Community Operation by Country
Contact with us
Address:
Happycoinhodings Inc.
2019-Seoul Gangseo-0011
348, Gangseo-ro, Gangseo-gu, Seoul, Republic of Korea
Phone
+82-10-9954-9114
E-Mail
ceo@happycoinholdings.com